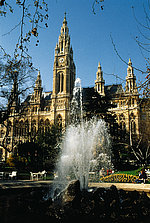 Registration
Online registration is now closed.
N.B.: Participants whose submissions of either VPs (visual presentations) or Ps (conventional papers) have been accepted are still guaranteed registration.
All registration fees include lunches and coffee break refreshments over the three conference days, as well as a reception with food and drink on Saturday May 22nd, sponsored by the mayor of Vienna and held at the historic Vienna City Hall.
On-site registration
On-site registration at the conference will only be available to a limited number of participants. In case of interest, please contact the conference secretariat at elfconference@univie.ac.at .

Cancellation and refund policy
Unfortunately, no refunds can be made after 30 April 2010.